Welcome to the "Young Professional's Guide To…" blog series! This series covers travel, marketing, and career topics specifically for young professionals (just like me!). That means keeping in mind budget, career goals, age, etc. in the hopes that you can actually get something useful out of this. Have a topic you want covered? Send me an email.
So you're going to Greece! Lucky you! Greece has been, by far, one of my absolute favourite places in the world and I would go back tomorrow if someone gave me the plane ticket and time off work. I'll be honest with you– I've only been to Greece once, earlier this year. But there are a lot of things I wish someone had told me, so I'm sharing them with you.
Where To Visit
You know how everyone says that Greece is huge? Yeah, they're not lying. In our 10-day trip, we visited Athens, Mykonos, and Oia/Santorini, and that was mildly more ambitious than I'd recommend. It was also the most touristy trip we could take, but as first-timers it was perfect. Keep reading for details about each place, but know that if you want time to relax and drink wine (do not skip the red wine!), you should not visit more than three areas in a 10-day trip.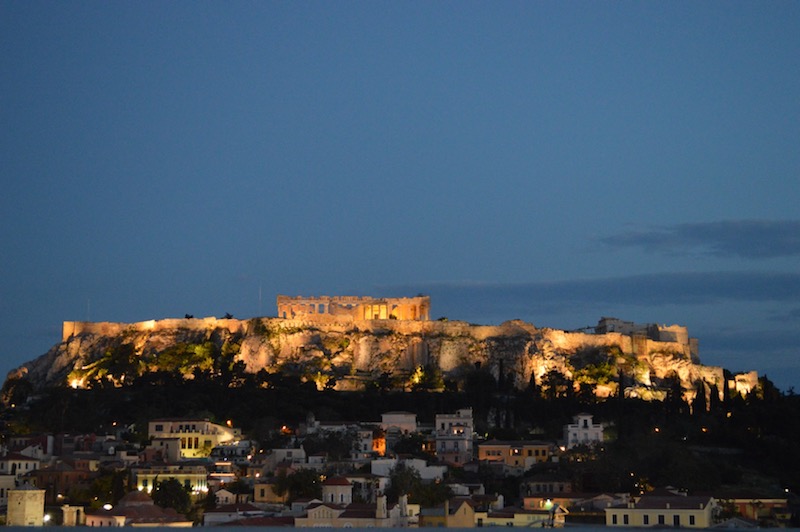 Athens
Athens is a massive city, with around 12 million people, and a variety of interesting neighbourhoods. The good news is that it's also a super walkable city, so if you are able to walk for long stretches, you'll be able to see a good amount of the city in 3-4 days. If you like cafes, do not skip out on six d.o.g.s cafe in the city centre. You can drink your coffee on a swing! On a swing! Be sure to grab some spanakopita from one of the many cafes in the area (avoid English menus) for a cheap, mouth-wateringly delicious lunch, or afternoon snack, or evening snack, or breakfast (no judgement). I also fell in love with the National Gardens; it's such an oasis in the city, and you stumble upon ancient ruins as you go. I don't think I need to tell you this, but go see the Acropolis. Get up early and go. It is entirely, 1000% worth it. If I ever leave Toronto, I'm moving to Athens.
Mykonos
I did not love Mykonos. I wanted to, but I didn't. Granted, we visited just before the season began so everything was extra quiet, but I don't think a bunch of partiers would have made me like it any more. It was really cool to get lost in Mykonos town, which is purposely maze-like to confuse pirates, and there are great beaches. But that's kind of where it ended for me. All of the restaurants are tailored toward tourists, which logistically makes so much sense, but tainted the experience for me a little, and cost more than I wanted to spend on dinners. If you like to party, don't skip this island. If you're a 20-something old lady like me, you'll probably appreciate other islands more.
Oia/Santorini
Oh, Oia. I am seriously planning to live out my retirement on this island. We stayed along the caldera, which is the most breathtaking view to wake up to and gives the northern Italian alps a run for their money (if alps had money… just go with it). Because we went just outside of major tourist season, we didn't experience when 80,000 people crowd the island in one day from all the cruise ships stopping by. Santorini is perfect for sipping wine pool-side, or on a balcony looking out at the sea and the caldera. If you enjoy hiking, there is a 4-hour hike between Oia and Fira along the edge of the island that I highly recommend. You know all those photos of Greece with the little blue dome roofs and windmills? That is Oia and it is perfect.
Where To Stay
Airbnb, my friend! Greece is absolutely still feeling their recent economic crash, so hotels aren't as pricy as other big cities in Europe. But there are lots of apartments listed on Airbnb for a third or half the cost, which also allows you to save money on food by cooking at home. Unlike many of the private condos rented on Airbnb in Toronto, there are entire apartment buildings and hotels operating through Airbnb in Greece. Our Airbnb in Athens arranged for taxi rides to and from the airport at a slight discount to the usual flat rate; our Airbnb in Oia allowed us to wake up to the caldera for a fraction of the cost of a luxury hotel nearby, and it had front desk hotel staff ready to help. Get $45 toward an Airbnb stay using my discount code.
We did stay in a hotel in Mykonos, at the top of Mykonos town (Prepare your quads for stairs. So many stairs.) and used a TD Expedia points credit card to get our stay nearly for free! It's totally worth looking into points credit cards if you love to travel.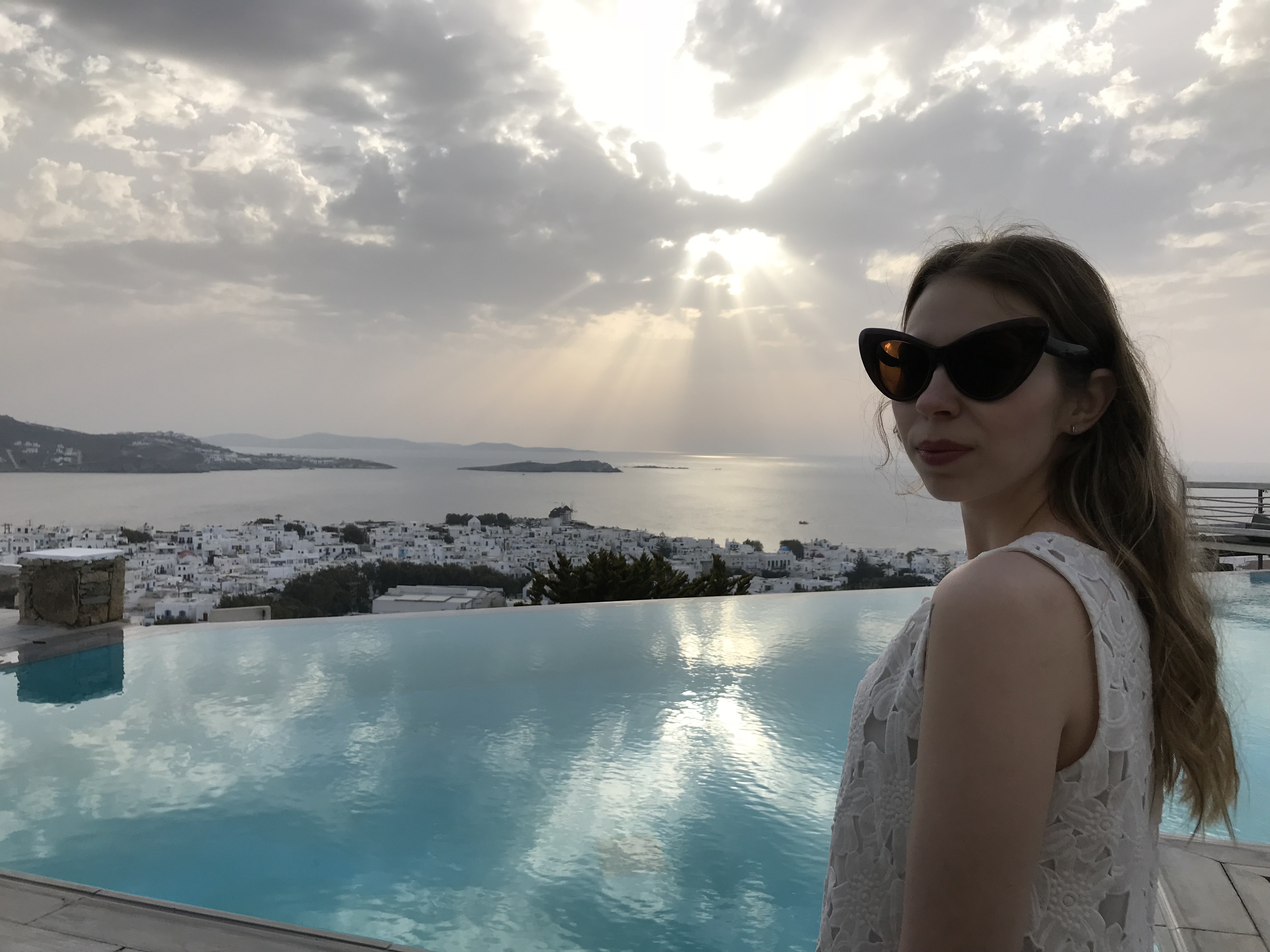 Getting Around
Even though Greece is huge, transportation is way easier than it is here in Canada. First of all, Athens has a subway system. We ended up walking everywhere, which was super reasonably doable, and allowed us to see more along the way. To visit other islands, there are a number of ferry options that cost a similar amount to a Greyhound bus ticket here in Canada. If you are prepared to splurge a little, you also have the option of Ryanair flights, which is how we got from Athens to Mykonos and from Santorini to Athens. It actually didn't cost much more than the fast ferry we took from Mykonos to Santorini, and it helped us make the most of our 10 days. On the islands themselves, unless you plan on just staying in one area, you will need a car or ATV.
Using Your Phone
This was one of my top concerns and I am not ashamed. If you don't feel like getting ripped off by Canadian phone companies charging you $12/day on top of your phone plan to use your phone, your first stop upon arriving in Athens should be swapping your SIM card for a Greek one! It's super easy to do, given that the employees at Public (essentially a tech store version of Indigo) will do it for you. Just remember to bring your passport, or you won't be able to make the purchase!
Instagrammable Locations
Ok. Who are we kidding? Literally all of Greece is Instagrammable. All of it. I was going to spend some time listing out locations, but if you love Europe, ancient historic sites, and architecture that cities unlike Toronto actually care to preserve, then Greece is for you. Blue sea. Stunning landscapes. Sunsets that bring tears to your eyes. Take all of the photos and then please share them with me so I can live vicariously until I return.